I try to sum up the week's events in bite-size form.
News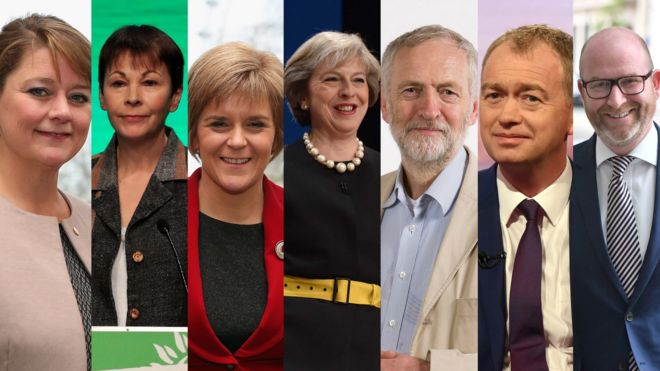 The UK General Election results in a hung parliament, with the Conservatives winning 318 seats (8 short of a majority) and Labour winning 262 (gaining 30). There were losses for the SNP but the Liberal Democrats gained 4 seats.
Theresa May has vowed to stay on as Prime Minister, though many within her own party and across the political spectrum see her position as precarious. On Saturday her two chiefs of staff resigned.
The Conservatives are currently in talks with the DUP, in the hope that the latter will support them in a minority government. In a cabinet reshuffle on Sunday the vast majority of cabinet members kept their posts, with Michael Gove returning.
Former FBI Director James Comey has testified at a hearing in Washington regarding his meetings with US President Donald Trump, describing some of Trump's comments about himself and the FBI as 'lies'.
France has had its first round of elections to choose government MPs, with President Emmanuel Macron's party En Marche predicted to win a majority. The second round will be held on 18th June.
Sport
Rafael Nadal wins his tenth French Open Men's Singles title, whilst the Women's title goes to unseeded 20-year-old Latvian Jelena Ostapenko.
After a shaky start to their New Zealand tour, the British and Irish Lions beat the Crusaders 12-3.
England's Cricket team are through to the semi-finals of the Champions Trophy, knocking out Australia on Saturday to further cement their position as one of the stronger teams.
The England U20 football team have won the U20 World Cup with a 1-0 victory over Venezuela in the final.
Usain Bolt has run his final 100m race on Jamaican soil, winning in 10.03 seconds. He will compete at the World Athletics Championships in London in August before retiring.
Entertainment
Noel Gallagher donates new royalties from Oasis song Don't Look Back in Anger to victims of the Manchester terror attack.
Peter Sallis, best known for Last of the Summer Wine and being the voice of Wallace in Wallace and Gromit, dies at the age of 96.
American actor Adam West, known for playing Batman on US television in the 1960s, dies of leukaemia aged 88.
A reboot of The Mummy starring Tom Cruise has been released and panned by critics as one of his worst films.
The first trailer for upcoming Marvel film Black Panther has been released online and received positive reaction.
Alex Nicholson