Uncharted Territory
Christopher Nolan's new film is powerful and harrowing viewing that hits you hard and doesn't let go, proving that the celebrated British director can turn his hand to anything.
12A, 106 mins
****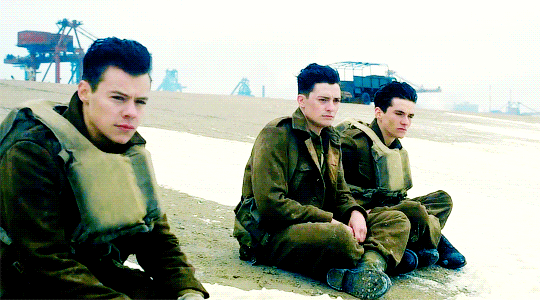 'Now is not the time for fear. That comes later.' So says masked villain Bane at the end of the opening sequence of Christopher Nolan's final Batman film, The Dark Knight Rises. However, it could very easily apply to his latest effort Dunkirk. Nolan has a widespread reputation for complexity, but his new film is disarmingly simple. In 1940, during the Second World War, British soldiers are trapped at the French town of Dunkirk and must find a way to survive. That is all. Though fear plays a large part in proceedings for those on both sides of the screen, there is often precious little time to dwell on it. All concerned are out of their comfort zone from the opening scene onwards.
With this in mind, it marks a kind of departure for Nolan, a stepping off into new territory. Dunkirk carries the responsibility of retelling history, as opposed to the relative creative licence of a superhero film or a space epic. It is also more pared back than we have ever seen Nolan before. Other than one solitary hint, none of the characters have any backstory to speak of. Nolan's hallmark of well-structured but often exposition-heavy dialogue is exchanged for sparing snippets of speech on an only-when-necessary basis. Instead, the focus is very much on the visual side, with haunting, stark images of flaming ships or crowds of soldiers making a powerful impact.
But despite these differences, it retains Nolan's trademark sense of ambition. As ever, amidst the chaos, he has created a finely calibrated onscreen world. In the same vein as the pseudo-scientific dream mechanics of Inception or the planetary time gaps of Interstellar, time also plays its tricks here. We follow three disparate groups of characters, at land, sea and air, across different timelines which are all out of sync before they eventually converge on each other. Aside from confusion, the main consequence is that Dunkirk never lets up. Both the retreating soldiers and we as viewers have barely gotten over one terrifying encounter before we are thrust into another.
One thing which certainly contributes to the atmosphere in this respect is Han's Zimmer's score. Nerve-shredding and seamlessly integrated into the noise of the rest of the film, it provides a patchwork of sounds that clank and hum together, and never really stops. At some moments it induces real terror, and reminds me strongly of Denis Villeneuve's drug war thriller Sicario, which similarly builds a mounting sense of unease with great skill. Given this, several scenes in Dunkirk are so tense that they are almost difficult to watch.
Nolan's entirely British cast all do very well in this stripped-back, intense environment. Fionn Whitehead is convincing as Tommy, a young man trying to get off the beach. Jack Lowden and Nolan stalwart Tom Hardy are both brilliant as pilots fighting off the aerial German threat, in roles that are as close as Dunkirk comes to light relief. Harry Styles does a good job of his debut acting role as a spirited soldier, while Cillian Murphy's turn as a man with shell-shock is also impressive. Meanwhile, theatrical old hands Mark Rylance and Kenneth Branagh are understatement personified as a volunteer rescuer and British naval Commander. 'Understatement' is the operative word, as Dunkirk rarely (if ever) attempts to drum up sentiment. Aptly, for a film largely concerned with boats, it mostly moves under the radar, near-silent, relying on the power of pictures over words.
But although Dunkirk focusses more on images than dialogue, when the speech does come, it's telling. The characters are not paragons of virtue as war films would sometimes have you believe. In Dunkirk, it is a perpetual struggle just to survive, let alone be heroic, and the decisions people make are not always for the good of everyone. Nolan doesn't glorify war as something that brings out the best of humanity, but instead at times shows quite the opposite, and should be praised for doing so.
Nolan has been so immersed previously in gritty worlds with a fantastical element, like that of the Batman trilogy, that having the fantasy removed by force here has left me slightly unsure of what to make of Dunkirk. While some have voiced the opinion that it is the peak of Nolan's craft so far, I am not so sure. Dunkirk is undeniably skilfully made, but is perhaps not up there with Nolan's best in terms of re-watch value or pure entertainment. Then again, as a war film it was unlikely ever to be a laugh a minute. In terms of its overall impact and the artistry on show, Dunkirk cannot be faulted – it's just not necessarily a film I would come back to again and again.
But I tip my hat to Nolan, who has proved that he is unafraid of doing the unexpected, having moved from a sprawling space-time epic to this survival thriller in a war zone. He has challenged himself to cut his technique back to basics in the process – and, for the most part, he has succeeded. Christopher Nolan has already had an extraordinary directorial career, and on this evidence that will not stop anytime soon. Where his craft will take him next will be very intriguing to see. Now is not the time for fear, indeed.
Alex Nicholson