At the end of proceedings in the first week of play at the All England Club, I take a look at what has happened so far, and what could happen next week.
The Men's top four are still in
After questions around the form of the men's top four in the draw, all of them have progressed to the second week. Roger Federer, Novak Djokovic and Rafael Nadal have not seemed troubled by their opponents so far. Meanwhile, although World Number 1 and defending champion Andy Murray was taken to four sets by Fabio Fognini in his last match, a challenge may have done him no harm. All of them still look like potential title contenders at the moment, which is an exciting position to be in going into the second week.
The Women's game is wide open
On the women's side of the game, although the same amount of seeds are left in as the Men's draw (13), things are much different. With no Serena Williams or Maria Sharapova this year, the women's game is the widest open it has been for years. As with 20-year-old Latvian Jelena Ostapenko at the French Open, a skilled young or unknown player who believes in themselves could be in with a shot. Magdalena Rybarikova, who beat tournament favourite Karolina Pliskova last week, and Ana Konjuh, who put out Daniela Cibulkova last round, could yet feature prominently. Johanna Konta, Caroline Wozniacki and a returning Victoria Azarenka (above) are amongst those also still vying for the title.
There have been a lot of injuries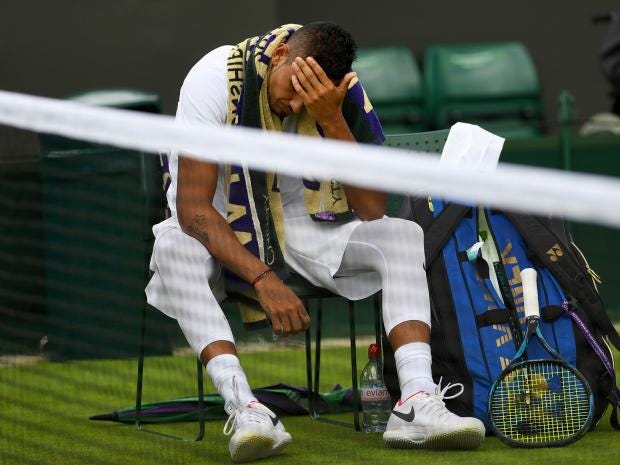 In the first day's play alone, Australian Nick Kyrgios (above) and Queens Club champion Feliciano Lopez both retired hurt, and by the end of day two the All England Club had seen eight players withdraw through injury (seven men, one woman). The sheer amount of tennis played by some players during the year, including Grand Slam warm-up events (there are several for the grass court season alone, including those in Ilkley, Surbiton, Nottingham and Queen's Club), may be coming home to roost. It has also ignited a debate over prize money, and whether players who are already injured going into a tournament should forfeit their place if they physically cannot play.
The British are coming … maybe
With Andy Murray and Johanna Konta still in the Championships after week one, there is a bigger chance of Britons winning the Men's and Women's singles titles at Wimbledon than at any time for the last 30 years. While Murray was challenged in his third round match, Konta has not dropped a set so far and is looking like a contender at the moment. But as ever, we should be cautious.
What will week two of this year's Wimbledon bring? We will soon find out.
Alex Nicholson