I try to sum up the week's events in bite-size form.
News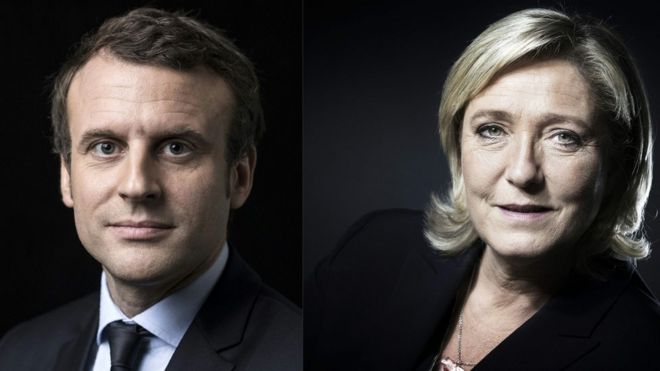 Emmanuel Macron wins the second round of the French Election to become the youngest President in France's history, beating the National Front's Marine Le Pen decisively.
Buckingham Palace announces that Prince Philip will retire from public life this Autumn, after nearly 70 years of service and over 22,000 engagements.
The Conservatives make big gains in the UK Local Elections, winning over 500 seats, while Labour lose over 300, the Liberal Democrats lose 42 and UKIP end up with only one seat.
The UK General Election campaign continues, with the main parties trading blows on policy.
The US government gains the necessary votes in the House of Representatives to repeal Obamacare, with Republicans passing the new American Health Care Act by 217 votes to 213. The bill now passes to the Senate.
The European Commission's Chief Brexit Negotiator Michel Barnier stresses that the UK will not be punished for leaving the EU, amid high tensions between the bloc and the British government.
Sport
Tennis World Number Two Novak Djokovic parts company with his entire coaching staff, citing the need for a fresh start.
European Athletics suggests rewriting all world records set before 2005, as a way of making a break with the doping scandal within athletics.
Athletes Paula Radcliffe and Colin Jackson are among those to criticise the proposal, saying that it would unfairly punish clean competitors.
Boxer Tyson Fury says he would like to fight Anthony Joshua following the Briton's victory over Wladimir Klitschko in the World Heavyweight title fight last weekend.
In Rugby, England's Ben Youngs withdraws from the British and Irish Lions squad for the upcoming Lions Tour for family reasons. He will be replaced by Scotland's Greg Laidlaw.
Entertainment
Singer Adele makes the Sunday Times Rich List, with her personal fortune estimated at around £125 million. She has earned £40 million in the past year alone.
Marvel sequel Guardians of the Galaxy Vol. 2 gains positive reviews and takes $427 million globally in its first 13 days in cinemas.
New trailers for upcoming Marvel series The Defenders, long-awaited Stephen King adaptation The Dark Tower and Christopher Nolan's war epic Dunkirk are all released online.
Lily Allen and Beyoncé songwriter Carla Marie Williams launch the #GetHeard campaign to get more women into music.
It has been announced that HBO's epic series Game of Thrones will have 'multiple spin-offs' to continue adventures in George R. R. Martin's fantastical universe after the main show has concluded.
Alex Nicholson