After Great Britain's First Round victory over Japan, I take some time to look over what is good about the British Davis Cup team – and what they need to think about changing for the future. 
We did it again. The British team triumphed 3-1 against Japan in Birmingham last weekend to progress to the quarter-finals of this year's Davis Cup. But it was not without some difficulties. Andy Murray had a few wobbles on serve in his otherwise routine dispatching of Taro Daniel, but Kei Nishikori triumphed fairly easily over Dan Evans in the second rubber. So once again it was Andy Murray who was chosen to partner his brother Jamie in the doubles match, which was a hard-fought three-setter. It was then, again, down to Andy to do the business in the reverse singles, an exhausting five-setter against Kei Nishikori, who may yet cash in on his promise as a Grand Slam contender on the evidence of last weekend.
It is of course encouraging to see that our talismanic standard-bearer Murray can still deliver the goods, and can take on being challenged. He certainly produced some great tennis in his three victories over the course of the weekend – because he had to. He is brilliant to watch when in full flow, however the habit of playing him all the time purely because of his quality needs to stop.
The main problem is that, although we won the Davis Cup last year, we are, in effect, not a team. We have the team dynamic, nurtured brilliantly by captain Leon Smith, and play as though we are a team, but still rely too heavily on one man for comfort. Players like Kyle Edmund (when he is not injured), James Ward and Dan Evans need to start winning matches on a more reliable basis to give us a wider range, or failing that, grass-roots tennis will have to find alternative players. Andy Murray is an exceptional player, no doubt, but he will not be around forever, and after this year is likely to switch his priorities to Grand Slams on a more focussed basis.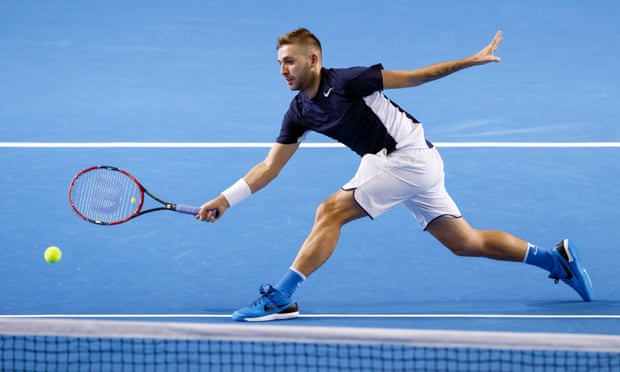 We have done very well so far, but in order to keep it up we need to show that the results are not just based around an individual, because for one thing the pressure is nearly always on him to perform – on this occasion he played three days in a row once again, and cannot reasonably be expected to have to pull it out of the bag every time. He's human. He'll get tired. He's also a father now, too, so that may play a part.
I'm not trying to drag the team down and say that Britain will automatically fail without Andy Murray in the Davis Cup – indeed they have the potential to do well. They just have to build on it now, to prepare for the time when Murray is no longer in the team, or gets injured, so that they have the best chance of success. For now at least, they have a star player who will most likely be able to help them get out of any scrapes, and it will be enjoyable (whilst biting fingernails) to watch him do so. But that may not last – so whilst not knocking what has been done in the past, British tennis has to do a certain amount of looking to the future now. I'm sure Andy Murray will be doing so as well.
Alex Nicholson