revenant – noun – a person who has returned, especially supposedly from the dead
'We're all different people, all through our lives, and that's okay, that's good, you've gotta keep moving, so long as you remember all the people that you used to be.'
Doctor Who, 'The Time of the Doctor'
The Revenant, Alejandro González Iñárritu's acclaimed film, whilst vaguely soulless, is undoubtedly a visceral, visually enthralling spectacle. It tells of fur-trapper Hugh Glass (Leonardo DiCaprio) and his fight for survival after being mauled by a bear then left for dead by his fellow men in the American wilderness of the 1820s. His story, as well as others both in the UK and across the Channel recently, focuses on a ghost-like figure who is trying to survive in an unforgiving world, and is ultimately trying to escape the past and find some kind of peace. But why are these life-and-death stories so prevalent now?
The Revenant is a tale of brutal outcomes, where life is hard and the harshness of nature is constantly being impressed upon its characters, whether they are Native Americans or American fur-trappers. At one point fur-trapper John Fitzgerald (Tom Hardy) says 'Life? I ain't got no life', as life is merely a test of survival for people like him, with no meaning to it, and death looms large on the horizon.
But it is the film's final third which fires it into contention as something which truly adds to the life-death conversation. Captain Andrew Henry (Domhnall Gleeson) proclaims Glass mad for wanting to mount a revenge mission against a man who has wronged him, saying that he will die. Glass's response is made for quoting – 'I ain't afraid to die anymore. I've done it already.' He has suffered terrible loss in his life, and although he has survived the vicissitudes of the landscape, he, in effect, has nothing left to live for. But this desolation is not unique to him. The concepts of feeling spiritually dead while still physically alive, and of being haunted by one's past, have been reflected elsewhere in the media recently.
Another damaged individual is DI John River (Stellan Skarsgård), the eponymous protagonist of BBC One crime drama River, broadcast in late 2015. He sees the 'manifests' of people from his past who are now dead, and is haunted by the recent murder of his friend and colleague Stevie (Nicola Walker), who is a manifest too. It is a slow-burning drama, with greater emphasis on loss and mental health than on the subject of the crime itself. But as we learn more about Stevie's past and River's own beginnings, the show starts to question how well one can know somebody else, as well as how difficult it is to let go of the past. We discover that time, experience and River's fragile mental state have made him into someone for whom the past can never die, because it remains by his side constantly throughout life.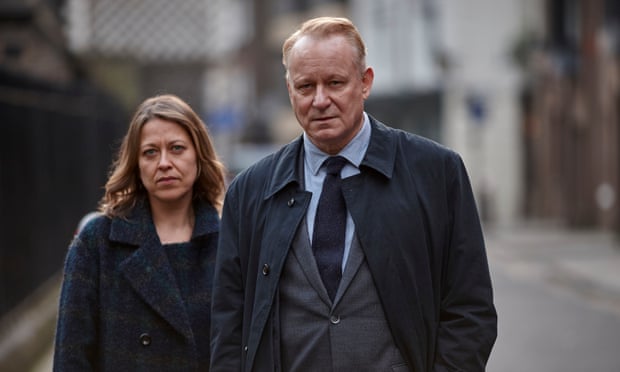 But in River's case, the (quite literal) ghosts of his past both assail him and help to reassure him at different times, making him who he is, and also allowing him to heal. His sense of being 'different' because of his ghosts allows him to better understand, in the words of one character, 'how hard it is just to be.' It is only when he comes to be at peace with certain events in his past that certain ghosts disappear. So River himself is just a sensitively handled manifestation of what life is actually like for all of us. This is purely because we each have our own pasts, and, because of the necessity of forward motion, must move on from them, whilst being forever impacted by what we did or who we were, or what has happened to us.
The past's ubiquitous nature is also the subject of French supernatural drama The Returned, the first series of which aired in Britain in 2013, with its second series coming at the end of 2015. It concerns a group of people living in a quiet Alpine village whose lives are transformed when their deceased loved ones begin to come back from the grave, unchanged and with no memory of being dead. Their families have only just become accustomed to life without them, but must now learn to live alongside them again. But as well as this, their loved ones must get used to being alive again, and grasp their seeming second chance, a chance to start again, with both hands.
This is no more evident than in characters like the troubled Simon (Pierre Perrier), who left his fiancée at the altar on their wedding day, serial killer Serge (Guillaume Gouix) or conflicted young boy Victor (Swann Nambotin), who now have the possibility to redeem themselves through living again. They have the chance to become different people, to learn from their past mistakes and move on. Given this, they raise interesting questions of what it actually means to be alive, and whether it is merely a physical state or something more than that, a matter of developing, changing and reflecting. So whether or not the series gives you answers to why these supernatural events are happening to its characters, the questions it poses are undoubtedly intriguing.
But the most important question is, why now? Why is it at this particular time that popular culture has chosen to focus on the elemental battle between life and death, between creating a present and breaking with the past, laying ghosts to rest or learning to live with them? The answer may lie in the fact that there are stories of people surviving diseases, or overcoming problems in their life, in the media all the time – they are just not always prominent. Perhaps this is popular culture's attempt at echoing that, because on a primal level, life is all we have, we just forget about it. But these dramas make us cling to it, and make us realise that we must seize our chances. Or maybe that's not the answer. Perhaps it's impossible to know why this is happening now. In any case, this cultural trend of death, ghosts and the past, and how it can make one reflect on important matters, is not something that can be ignored.
Each of these fictional universes provides new ways of dealing with the problems that both life and death offer us – and affords us the possibility of making peace with our ghosts, and of being at peace with being a kind of ghost in the first place, all of us out in the wilderness searching for something, having left something else behind. What art is doing at the moment is providing another voice to tell us that being a lost soul, which each of us is in our own way at one time or another, is alright. What matters is that, out of the darkness, it is always possible to find your way forward.
Alex Nicholson