A Blast From The Past
Daniel Craig excels as Bond and the supporting cast shine in a sleek, action-driven and often funny thriller which has clear echoes of Craig's previous films. Though action at times hinders plot, it is for the most part a classy adventure.
12A, 148 mins
****
You can reboot him all you like, but James Bond has always been a creature of habit. Daniel Craig's 007 has bled and cried, but eventually he was going to be duffing up a henchman whilst drinking champagne and wooing a fair maiden at the same time. Craig's previous films arguably earned him the right to do so, and SPECTRE is his Bond cashing in his chips – but not without a bit of anguish thrown in, as it wouldn't really be Craig-era Bond without it.
The good thing, though, is that Craig finally seems comfortable with all aspects of the Bond persona – he even smiles at his own quips now. But there's no rest for the wicked, as 007 is plunged into a murky surveillance-based plot after a breathlessly exciting opening jaunt to Mexico City which sets the tone for the rest of the film: non-stop. Not since the reboot of the franchise has the pace of a Bond film been so relentless, with the location changing so rapidly you get dizzy and the action coming thick and fast. Bond jets around all over the place, however it feels as though, aside from a slick Austrian chase, everything's running on autopilot. In fairness, though, the stock of original action sequences must be starting to run dry now.
But aside from the globetrotting, back at home there's trouble brewing in the form of Max Denbigh (Andrew Scott), a powerful man with Big Plans for British Intelligence. M (Ralph Fiennes), Q (Ben Whishaw) and Moneypenny (Naomie Harris) have their work cut out halting him, exchanging stellar one-liners as they enjoy a fair amount of screen time for supporting characters. Whishaw in particular is on sparkling form. So while there's a debate amongst some quarters as to whether SPECTRE is a better film than Skyfall, it's certainly more fun.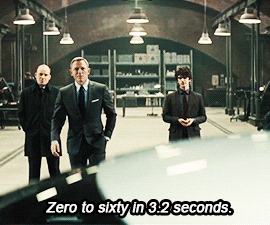 Despite the increased fun factor, though, viewers will need to be switched on. There are deliberate callbacks to each of Craig's previous Bond films in this outing, and director Sam Mendes hasn't finished mining the seam of Bond's distant past quite yet either. But it's all done carefully, more so than it was in Skyfall, where it often felt forced. And here Mendes calls back the ultimate callback in rebooting that sinister organisation of past Bond films, SPECTRE, for the modern age, with the maniacal Franz Oberhauser at its head. Played with spectacular relish by Christoph Waltz, he resembles Javier Bardem's Raoul Silva in being both a pantomime villain and a chillingly nasty piece of work.
That said, there are problems. The Bond girl on this occasion, Madeleine Swann (Léa Seydoux), a troubled yet gutsy damsel, has the potential to challenge Bond on a personal level, and does for a while, but ends up being slightly sidelined. I wish more had been made of her, as she seems like the ghost of both Vesper Lynd (Eva Green) and Camille Montes (Olga Kurylenko), two of Craig's previous Bond girls, in certain ways. It's just a shame that she never becomes more flesh-and-blood.
Equally, the film's main plot is pertinent but often takes a back seat to the action, hiding the fact that once the dust settles there isn't much of one. This is partly because at times you feel that SPECTRE is attempting to bridge the gap between two different types of Bond, stuck between giving the audience a serious contemporary plot à la Casino Royale, or the enjoyable hokum of the likes of the late Roger Moore films. As it is, Bond and Swann run around a lot at the service of a threadbare plot which tries serious on for size but also seriously skirts the borders of Camp Town and Sillyville. It just about passes muster.
I would say that as SPECTRE appears to be walking a tightrope between different eras of Bond, of seriousness and fun, plot and nonsense, looking back at tradition and looking forward, it's no wonder that the film at points feels rushed or at others vaguely muddled. It's got a lot on its plate. But the important thing is that, through the gloom, familiar shapes emerge. Girl got. Day saved. Bond will return. Those welcome elements will never change, and so even if the balancing act sometimes fails, the film is still a highly entertaining watch. The ending of SPECTRE left me with as broad a grin on my face as that of Skyfall.
If there's one thing SPECTRE really shows, though (fittingly with this most resurgent and long-running of franchises), it is that your past comes back to haunt you. When Judi Dench's M said in Skyfall that 'the enemy is in the shadows', perhaps she also meant that you can never tell where those shadows might come from. Because one thing's for certain, Bond casts a long shadow. But if he carries on like this, then I'll never tire of seeing him try to shake it off. Yes, SPECTRE may fall down in places, but this is James Bond after all, and I find that he still makes it work. More than anything else, he knows how to bluff.
Nicholson, Alex Nicholson