THE RUGBY WORLD CUP 2015: A PANORAMA
With this year's Rugby World Cup, hosted in England, now over, I look back at the tournament, and reflect on my own thoughts about an often-brutal sport.
It's over. As someone who doesn't usually keep up with rugby, is sometimes puzzled by its rules and indeed doesn't usually have much interest in it beyond the fortunes of the England team, I was surprised to find myself enthralled by the latter stages of the 2015 Rugby World Cup. It made little odds that it was taking place in England, but still it was a matter of pride to note the number of sporting events that our isle has hosted in recent years. It's getting to be quite a collection.
However, to return to the matter at hand, it seemed that, free of the yoke of supporting my home player or nation (as is often the case with football), I became all the more vocal in supporting other 'home nations' like Wales and Scotland. This is not least because the both of them seemed to have more drive and determination in their respective quarter-finals than England could muster in all of their group matches combined. And they were simply more fun to watch.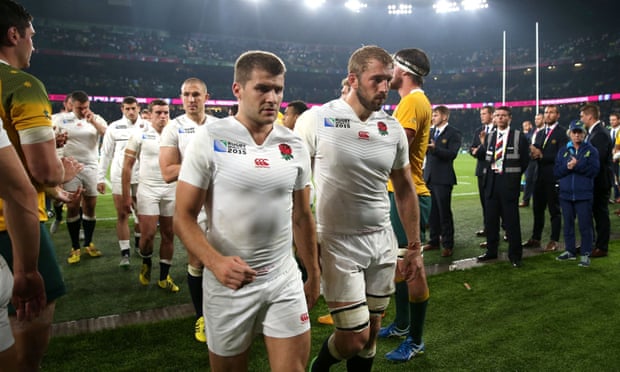 A dejected England leave the field after being knocked out in the group stages by Australia
It's all very well supporting your own team, and being spurred on to do so by campaigns like O2's #WearTheRose, but when the team does not inspire confidence or entertain you with their play, supporting them becomes that much more difficult. When England went out, at first I felt disappointed, then indifferent, then finally convinced that it was absolutely right that they were out. This was in no respect helped by the fact that England were undisciplined, and half the time had practically no energy. If the side were passionate about playing in a home Rugby World Cup, then for me it often didn't show. The team would of course dispute this, but in any event, the glory days of 2003 were far away.
Wales applaud the crowd after losing their quarter-final to South Africa
But take Wales and Scotland. Much more disciplined and impassioned in their play, you could tell that this tournament mattered to them. It felt as though, in losing their matches, they had put everything on the line. This was something you never got a sense of with England, and consequently I felt much more disappointed, gutted almost, when those two teams exited the tournament.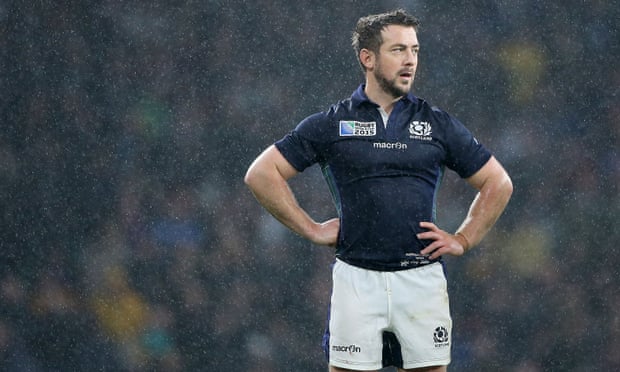 Scotland player Greg Laidlaw following their 35-34 quarter-final defeat to Australia
However, such passion perhaps pales into insignificance when faced with the might of rugby juggernauts like Australia, South Africa and New Zealand. The latter in particular are elemental when it comes to the sport of rugby – scrums are practically in their bloodstream. For the All Blacks above all others perhaps, although it may be a cliché to say it, rugby is not merely a sport, but something you live and breathe. It is simply awe-inspiring to watch them in full flow. When they play, they play as though for 80 solitary minutes, nothing in the world matters more to them than the game. If only we could find a team sport in Britain where the team played like that.
I always thought of rugby as a sport that attempted to make something structured out of knocking eight bells out of each other. And yet, when I watched New Zealand and Australia play in the thrilling final on Saturday night, I was able to look past that and see what the passages of play all meant. It's about fighting to earn something and getting past obstacles. Basically, in a sense, rugby equals life itself, but in much more broad-brush and brutal terms, and with a greatly increased likelihood of acquiring cauliflower ears at some point. You still wouldn't catch me playing rugby, but once every four years I come to appreciate it that little bit more.
The Dan Carter drop goal that won it for New Zealand
But in any case, how about that final. It was a corker. It had the best of everything – brute strength and power on the part of the All Blacks, as well as the added emotional pull of the story of New Zealand number 10 Dan Carter. The fly-half missed the final they won in 2011 through injury, and had chances to bow out between then and now, but chose to stick it out. And on the other hand, the Aussies showed such sheer determination under pressure that they had the All Blacks quivering for a fair portion of the pulsating second half. A good final became great, and had a fairytale ending for Carter, whose exceptional drop goal helped seal the deal. It was a sporting victory which fully reflected the best team throughout the tournament, and was thrillingly, with every inch, deserved.
New Zealand, winner of the 2015 Rugby World Cup
I'll just remember to focus on anyone but England in future – until the point at which they start playing like the All Blacks, and give me a home team I can believe in. But as that may be some way off, at least I've got plenty of other teams to admire in the meantime.
Alex Nicholson